Meet the ProBike Team
DSA & RoSPA Approved Instructors
Billy - Company Director
Billy is a fully qualified DSA approved instructor, raised in Chester he now lives in Connahs Quay. Ex Army, Bill holds the RoSPA Advanced Riding Certificate Gold Award, and the coveted RoSPA Diploma in Advanced Instruction. Bill enjoyed track days and has ridden both UK and Europe, but has a new found interest in shooting and grand children... not shooting grandchildren... he shoots with the Fort Airgun Club.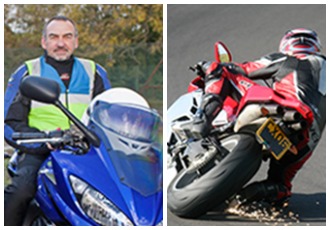 He still owns an MV Agusta but is one of lifes' collectors ... so that sits in the garage with his red sports car which he still won't sell, and many bits of shooting paraphernalia which he simply must have! Little parcels always arrive at the office... ... Sshhhhh, don't tell the Mrs!
Stewie - Company Director
Company Director, he is a fully qualified DSA Approved Instructor, one of the few instructors in the area that is a member of the new DSA Register of post-test Motorcycle Trainers, and a RoSPA Gold Award holder.
He enjoys track days, home and abroad and has ridden Jerez, Almeria, Portimao and the Nurburgring. He currently owns a GSXR 750 track bike and can been seen regularly at Ty Croes, Anglesey.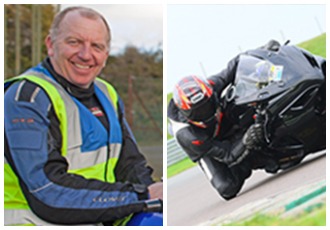 He has an onboard video camera which he uses, and has posted videos on YouTube under the name Stewart750, all well worth a watch.
Stewie insists that the gravel at Redgates have magnetic properties, as has is the armco at the Nurburgring. Cars are attracted to the rear of his bike so there could be something in it!
Sarah
Sarah looks after the running of the offices, she came to train with us and stayed, so we're doing something right. Born in Newtown, she now lives in Deeside and rides a Kawasaki 750. Sarah came to us in early 2019 and passed her tests first time.
At the weekend you'll find her all over the country marshalling the British SuperBike rounds.
Steve
Steve was born in Mancot, raised in Buckley and now lives in Shotton, Deeside. He is a qualified DSA approved instructor and our master of all trades.
An ex-plod, fitness instructor, engineer, and former catalogue model (that's a lie) yes a man of many talents. Steve comes from a family of motorcycle enthusiasts and is a big fan of motorcycle racing… he'd be great in a pub quiz team as his general knowledge is astounding!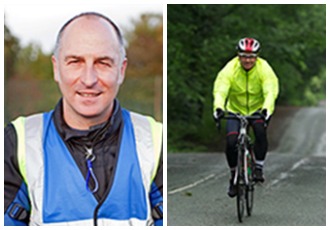 His current love is cycle road riding (having already been a mountain bike downhill rider) and he follows cycle races, and rides himself. He has ridden two long distance charity rides this year with great results. Midge Ure sideys are Steve's trade mark.
Mike
Mike was raised and still lives in Warrington. He's not only an instructor but also the Probike grease monkey.
He unknowingly volunteered himself for the role once we found he was a qualified mechanic and ran his own business for many years.
When not instructing or fixing bikes, Mike enjoys trackdays on an early CBR600 and tries to stay shiny side up as he doesn't bounce as well as he used to. Mike came to us in August 2018 and is already part of the furniture.